Commercial HVAC Maintenance Services in Suffolk County, NY
Your commercial HVAC system is an investment that needs to be protected. Well, Viridian Heating & Cooling has a team of highly qualified and experienced HVAC maintenance specialists who know how to maintain and improve your system's efficiency, air quality and save money.
As HVAC systems used in commercial buildings are complex systems, they require immense cooling and heating loads to operate. That is why it is imperative to schedule regular professional HVAC maintenance services to ensure your expensive HVAC system runs smoothly.
We understand you want the best service within a budget. Fortunately, Viridian Heating & Cooling has a skilled and experienced team that delivers results beyond your expectations. Our team of expert technicians will address all your issues. Our team of professionals has the experience and skills needed to deal with the complexities of commercial HVAC units. We excel at providing all sorts of services, including repairing, maintenance, changing, installing and cleaning, etc., for your heating and cooling systems.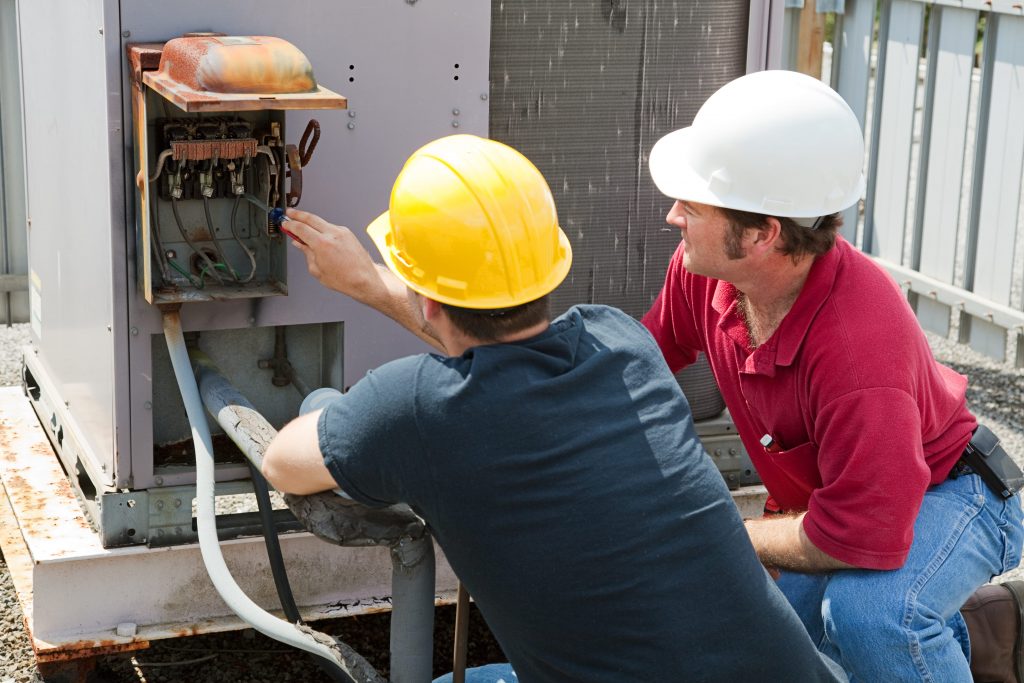 Commercial HVAC Maintenance Contractor
As your HVAC system is an expensive part of the building infrastructure, regular maintenance can prevent costly repairs and lower energy consumption costs. During a maintenance inspection of your commercial unit, our team runs several safety tests to ensure no leakage of carbon monoxide, natural gas, refrigerant, or any other leakage. Our technicians are licensed professionals who have an in-depth understanding of mechanical parts and electrical wiring.
Viridian Heating & Cooling is not just a service provider. We work for all sorts of buildings, offices, and other commercial zones either under construction, renovation, or for the systems that are already operational. Viridian Heating & Cooling provides scheduled maintenance services to its commercial customers. We understand the need and significance of regular maintenance of commercial zones and their installed equipment and hence have a series of services to offer. Not just that, we are just a call away and 24/7 at your service.
Our Commercial HVAC Maintenance Services
Regardless of the type of HVAC maintenance service you are looking for, we have the most experienced and trained technicians available to keep your business running comfortably and efficiently.
Our commercial HVAC maintenance services include:
• Commercial air conditioner maintenance
• Commercial furnace maintenance
• Commercial boiler maintenance and repair
• Commercial heat pump maintenance
• Maintenance of ductless mini-split
• Thermostat replacement and maintenance
• Regular inspections based on monthly, semi-annual or annual subscriptions
Our Commercial Preventive HVAC Maintenance Plans
At Viridian Heating & Cooling, we understand the importance of handling small issues before they turn into major ones. That's why we offer different preventative HVAC maintenance plans to our esteemed customers.
You can choose from:
Monthly Maintenance
Bi-Monthly Maintenance
Quarterly Maintenance
Semi-Annual Maintenance
Annual Maintenance
Extend The Life of Your Commercial HVAC Unit
There should be a specific plan to extend your commercial HVAC unit's life and cut down on expenses. We are here to help you with our in-depth maintenance service to avoid any headaches down the road. If you need an emergency repair or scheduled maintenance, feel free to contact us.